February 11, 2021, OTTAWA
 – Cooperation Canada announce
d
 the recipients of 
the 
2020 
Cooperation Canada A
wards
 at its awards ceremony tonight
:
Zaida Bastos, 
Kehkashan 
Basu
 and
Développement international Desjardins
(DID)
.
The Karen Takacs Award 
Cooperation Canada presented Zaida Bastos, former Development Partnerships Program Director for the Primate's World Relief and Development Fund (PWRDF), with the Karen Takacs Award for Women's Leadership in International Development.  
Zaida began working with PWRDF in 1998 and, over the years, served in several capacities, including as Africa Program Coordinator and External Funding Program Manager. Over the span of her career, she has worked for the Working Group on Refugee Resettlement, UNESCO in Paris and the United Nations Development Program in Angola. Zaida's expertise focuses on community development, gender equality and organizational development and has worked to support effective training and the integration of prevention of sexual exploitation and abuse policies. 
"In our experience on the frontlines of community-based health and develop work in Burundi, we can think of no one who better embodies the dual focus of collaborative leadership and advancing women's equality, empowerment and voices," said Cathryn Christensen, Clinical Partnerships Director for Village Health Works and a colleague of Zaida's.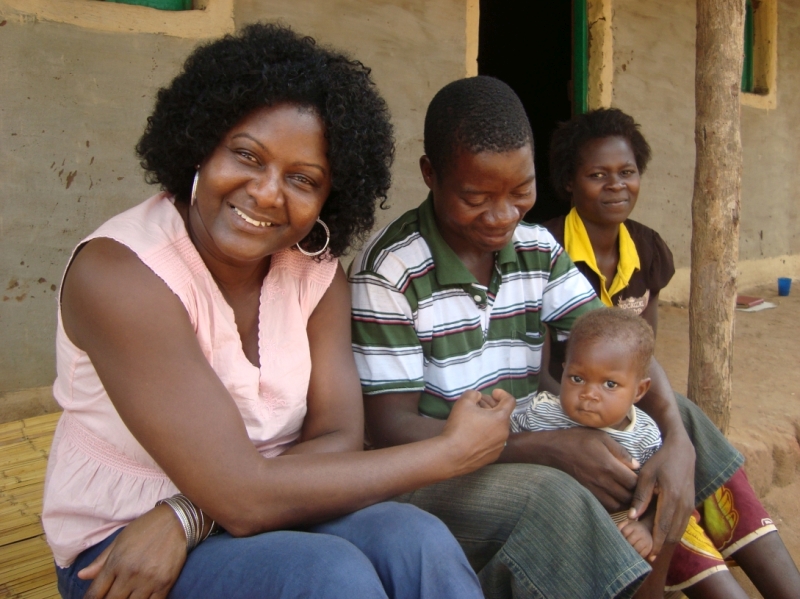 Zaida Bastos (left) in Tanzania. 
"Zaida's peers and colleagues at PWRDF and representatives of the many development agencies and community partner organizations have benefited from her support, knowledge and passion over her many years of work in women's leadership in international development," said Will Postma, Executive Director for PWRDF. 
About the Karen Takacs Award 
Karen Takacs was a celebrated and cherished leader of the Canadian international community. For over 20 years, Karen worked tirelessly to improve the lives and advance the rights of women and girls locally, nationally, and internationally. Karen was a catalyst for collaboration in the Canadian international sector. Throughout her life, Karen was admired for motivating and bringing people together around a common cause. By way of encouragement, generosity, and humour, Karen led by mobilizing and supporting others. Following Karen's passing in 2015, Cooperation Canada (then the Canadian Council for International Cooperation) created an award to honour her invaluable contribution to the fight for social and economic justice, and to celebrate the unique collaborative leadership she demonstrated throughout her career, including her time as Chair of the Board of Cooperation Canada. For the Canadian global development community, The Karen Takacs Award is a symbol of feminism, collaboration, advocacy, mentorship and resilience. 
The Innovation and Impact Awards
Kehkashan Basu (Founder and President of the Green Hope Foundation) and Développement international Desjardins (DID) are the recipients of the 2020 Innovation and Impact Awards in Honour of Lewis Perinbam, presented by Cooperation Canada and World University Service of Canada (WUSC), in collaboration with the Trustees of the Lewis Perinbam Award. 
A youth leader, global influencer, environmentalist, and champion of women and children's rights, Kehkashan Basu is described by her peers as a trailblazer who has been challenging the status quo and breaking social strictures and taboos that impede the progress and rights of future generations. She is the Founder and President of global social innovation enterprise the Green Hope Foundation, which works at a grassroots level in 16 countries, empowering young people, especially those from vulnerable communities – amongst them, Syrian refugees, Rohingya refugees, children of prisoners in Nepal and Kenya, and Covid affected communities in Bangladesh and Liberia. 
"With COVID and all the other ongoing crises facing humanity, it is so easy and tempting to get discouraged and to retreat into our bubbles," said Jean-Marc Mangin, Chair of the Trustees of the Lewis Perinbam Award. "Defeatism was never in the DNA of Lewis Perinbam. This year's winner of the Impact Award in honour of Lewis Perinbam, Kehkashan Basu, embodies fully his courage of the imagination and his can-do attitude that our age requires."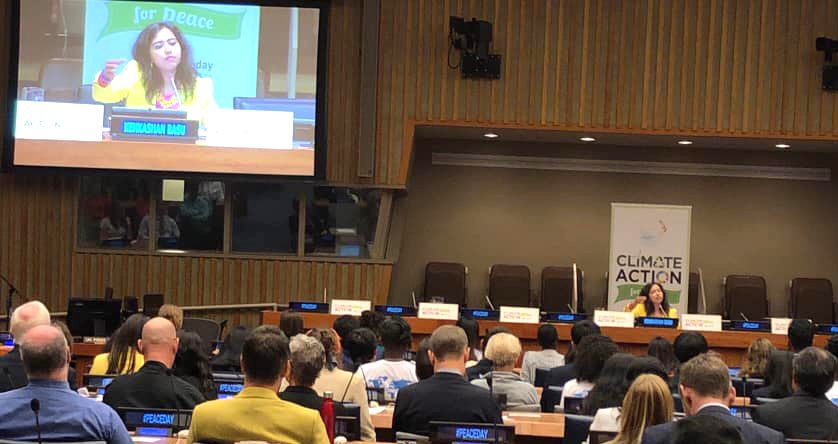 Kehkashan Basu speaking at the United Nations on 2019 International Day of Peace (New York).
Cooperation Canada and WUSC awarded Développement international Desjardins (DID) with the Innovation and Impact Awards (organization prize) for its transformative approach in increasing the economic power of farmers in Colombia. The organization used innovative and impactful means through its design of the DECISION mobile application, which facilitates the process of analyzing credit applications on the spot and promotes the secure financial inclusion of farmers. By the end of the project, 136,000 agricultural credits had been granted to 80,000 farmers; 15,000 farmers had received financial education (57% of whom were women), and these figures continue to increase.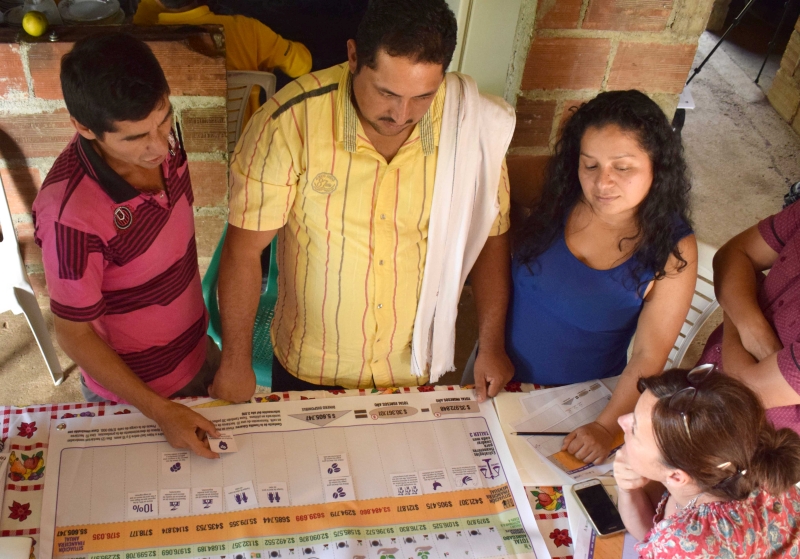 With its initiative, Développement international Desjardins (DID) helped make Colombia's agricultural financial sector more inclusive, efficient, and secure for farmers. 
"Kehkashan Basu and Développement international Desjardins (DID) are leaders who embody the values and principles of these awards," said Nicolas Moyer, CEO for Cooperation Canada. "They have both demonstrated dedication to being innovative in their approaches to their work, for which the impact will be felt for many years." 
About the Innovation and Impact Awards 
Annually, Cooperation Canada and the Trustees of the Lewis Perinbam celebrate and recognize Canadian individuals and civil society organizations (CSOs) that are doing impactful and innovative work. Cooperation Canada defines an Innovative Practice as a new or more impactful means of, or approach to, addressing development challenges and improving the lives of the world's most vulnerable. An innovative practice can take many forms, it can be an innovation that is new to a particular context, but tried and true elsewhere.  In addition, the innovative practice could be an approach, technology, business model, policy practice, partnership and more. To achieve impact through innovation, an Innovative Practice should align with The Whistler Principles to Accelerate Innovation for Development Impact. 
Honouring Lewis Perinbam 
Lewis Perinbam, O.C, (1925-2007) was a pioneer in building the international development sector in Canada. He was the founding Executive Director of CUSO, the first full time Secretary General of the Canadian National Commission of UNESCO and the Executive Director of World University Service of Canada (WUSC). He joined a fledging Canadian International Development Agency in 1969 and became the founding director general of the NGO division. He later became the Vice-President of the Canadian Partnership Program where he launched several programs that made Canada a leader in civil society-government collaboration. He led the 2000 Task Force on the Participation of Visible Minorities in the Public Service which generated deep change throughout Government. The awards recognize his outstanding contributions and provide a reminder and a call for action that ambitious system-wide innovation is always possible. 
Media Contact 
Kat Guerin
Communications Manager, Cooperation Canada
[email protected] or 613-222-3009 
Stephanie Leclair
Director, Communications and Digital Transformation, WUSC
[email protected] or 613-761-3714