Cooperation Canada held a webinar on June 9th, following the 100 days of War in Ukraine. Using a feminist lens, the panel discussed the needs of displaced persons and broader, media coverage, humanitarian response and foreign policy. 
We thank our panel and their amazing insight on the work their organization has been doing and continue to do in helping the people of Ukraine and beyond.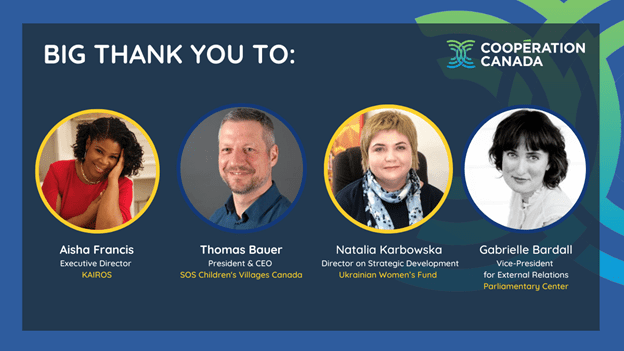 Aisha Francis is the Executive Director of KAIROS. She is an author and a seasoned professional with over twenty-five years of diverse leadership and business experience across private, corporate, and non-profit sectors. She has significant experience in leadership development and a strong background in advocating for racial justice issues. 
Thomas Bauer is the strategic and dynamic president and CEO of SOS Children's Villages Canada, with more than 20 years of experience in the fields of child welfare, international development, non-profit management, and governance. 
Natalia Karbowska is the co-founder and director on strategic development of the Ukrainian Women's Fund – the only women's fund in Ukraine. Natalia has more than 25 years of experience in development work, in the area of civil society development and women's rights,
Gabrielle Bardall leads EngageParlDiplo, the Parliamentary Centre's flagship orientation and dialogue program for Canadian MPs and diplomats, and advances the Parliamentary Centre's role as Canada's global leader for democracy, in her role as Vice President for External Relations. 
To learn more about the webinar, you can watch it here,