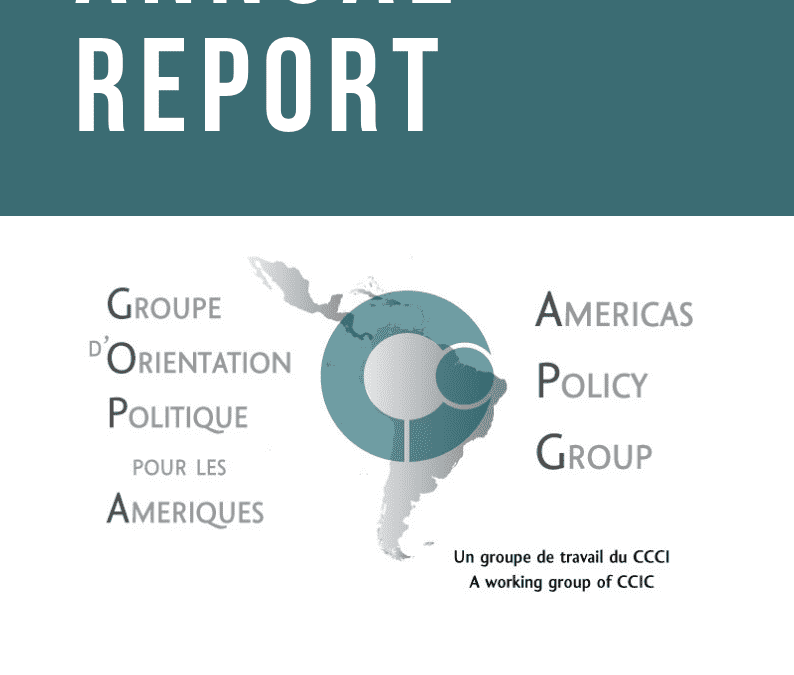 APG 2018-2019 Annual Report
It has been an amazing year for the Americas Policy Group (APG) and its members. As such, we are proud to present the APG 2018-2019 Annual Report highlighting the work of its 29 members. It includes the group's main activities, list of members and financial report.
Among all the milestones that we have reached, we can highlight the following collective work of the APG:
Government relations & policy advocacy:
Ongoing monitoring, policy recommendations and advocacy for sustainable development, human rights and social justice in Guatemala, Honduras, Mexico, Colombia and Haiti;
Held eight (8) consultation and briefing meetings with Global Affairs Canada's Americas Branch and its North America, Central America, Latin America & Caribbean Bureaux;
Held four (4) briefing meetings with diplomatic representatives from Canadian missions in Colombia, Guatemala, Honduras, Peru & Bolivia while in Canada;
Guatemala: sent a letter of concerns to Canada's Minister of Foreign Affairs regarding the alarming government's withdrawal of the UN International Commission against Impunity in Guatemala (CICIG) and on the disturbing escalation of assassination of land and human rights defenders;
Honduras: denounced the situation of prisoners and human rights crisis in Honduras;
Mexico: participated in consultation with Global Affairs Canada's North America Strategy Bureau regarding the "Canada-Mexico Human Rights Bilateral Dialogue" for the upcoming 3rd edition to be held in Ottawa in 2019. Recommendations include proposals to increase Mexican CSOs participation in the process. Click here to read the APG 2019 recommendations;
Colombia: engaged with Global Affairs Canada's South American bureau and strongly recommended for the reform of the "Canada-Colombia FTA Human Rights Report" ;
Haiti: participated with AQOCI on a regional forum on Haiti to enhance greater coordination with the APG on policy and advocacy. Held an introduction meeting with GAC's Haiti division;
Facilitated the APG perspective to Global Affairs Canada ongoing consultation on its "Voices at Risk –Canada's Guidelines on Supporting Human Rights Defenders".
Parliamentary relations
Hosted a roundtable with Members of Parliament of the Canadian section of ParlAmericas and Women land defenders resisting extractivism in Latin America.
APG co-chair, Steve Stewart, testified at the House of Commons' Standing Committee on Citizenship and Immigration as an expert witness on migration in Latin America. Listen testimony here or Read transcript here.
Member-led Annual Meeting & Activities
Held its general meeting in Montreal, attended by 35 participants from 25 organizations;
Launched a new subgroup on Haiti;
Supported the launch of the training manual "Implementing a Human Rights Based Approach" with CCIC and Equitas.
Sector-wide campaign
Click here to download the APG 2018-2019 Annual Report.
Thank you for your continued support and engagement!
CCIC Regional Working Group Coordination Team.