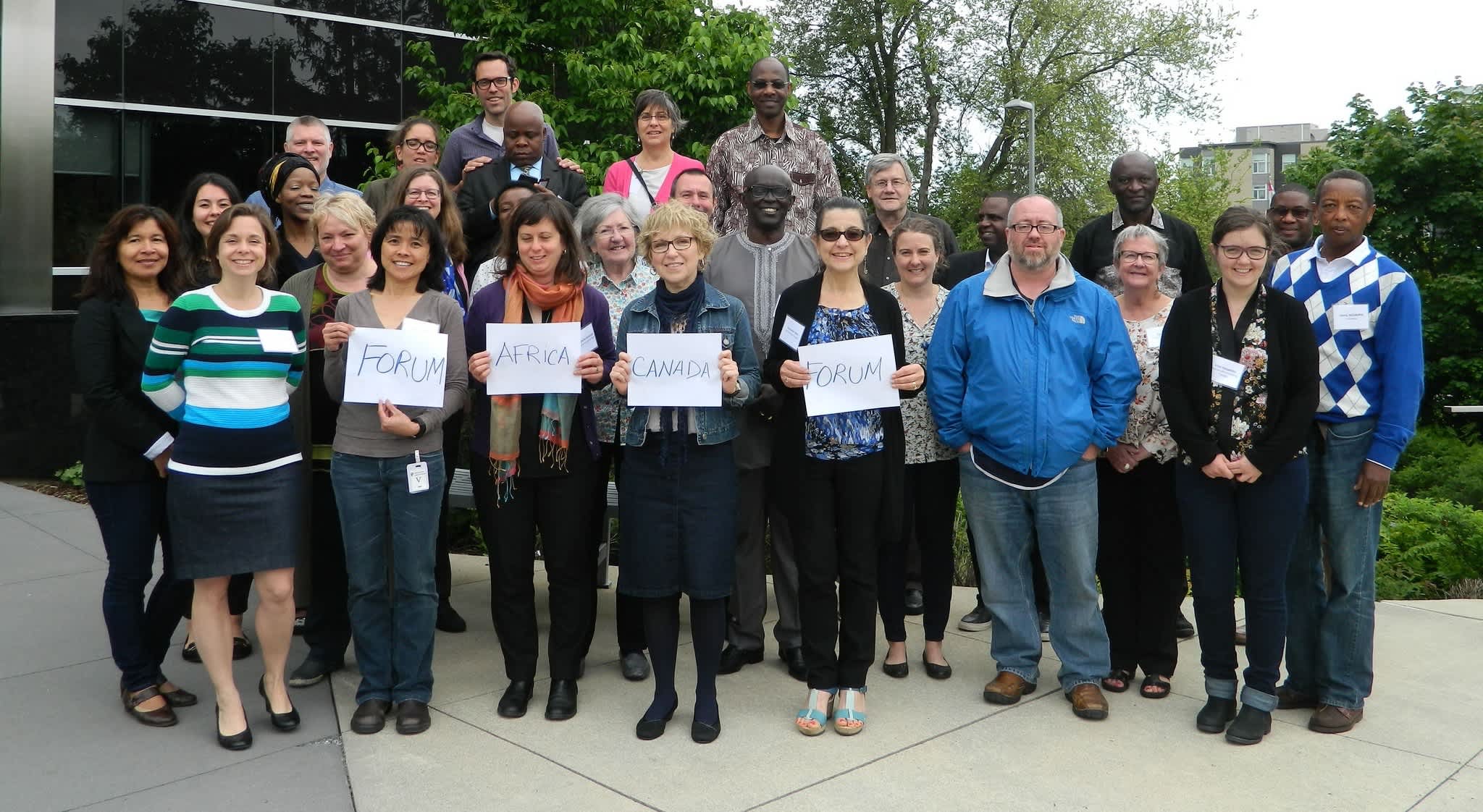 The Africa-Canada Forum (ACF) is a Working Group of the Canadian Council for International Co-operation.
It brings together NGOs, churches, unions, and solidarity groups from across Canada that have a specific interest in development cooperation and social justice in sub-Saharan Africa.
Its purpose is threefold:
to improve the quality and impact of the work of participating groups through reflection and analysis of current programming relationships in Africa;

to improve the coordination of policy development and strategies for joint action and advocacy;

to engage in dialogue with African counterparts and colleagues.
Mandate
Develop collaborative strategies for policy development, dialogue, and advocacy with the Canadian government and multilateral institutions.
Enhance the capacity of members to undertake policy work concerning sub-Saharan Africa.
Facilitate the sharing of lessons on programming issues to improve the quality and impact of members' work, sharing the experiences of participating groups and their African partners.
Participate collectively in relevant national and international bodies.
Provide advice to the CCIC Policy Team and Board of Directors on Africa-related policy issues and actions.
Monitor and share information and produce analysis on development and human rights issues in Africa, in dialogue with African counterparts and colleagues.
Provide venues for joint reflection, debate, and for the building of common platforms.
Governance
A Coordinating Committee, elected once a year, is responsible for the implementation of the ACF mandate. The Coordinating Committee meets every eight weeks or as needed. Staff from the ACF and CCIC Policy Team are ex-officio members of the Coordinating Committee. The ACF meets as a whole two times a year.
Methodology of Work
Thematic task-groups of the ACF are formed on an ad hoc basis. The ACF will promote the fruitful participation of African colleagues.
AFRICA-CANADA FORUM MEMBERS 2019 – 2020
Africa Study Group / Groupe de réflexion sur l'Afrique
Aga Khan Foundation Canada
Avocats sans frontières Canada
Canadian Foodgrains Bank
Canadian Jesuits International
Canadian Labour Congress / Congrès du travail du Canada
CARE Canada
CECI: Centre d'étude et de coopération internationale
CELADA – Coalition for Equitable Land Acquisitions and Development in Africa
Centre de coopération internationale en santé développ
CODE
Crossroads International/Carrefour International
Development and Peace / Développement et paix
Equitas – International Centre for Human Rights – Education
Farm Radio International / Radios Rurales Internationales
Fédération des travailleurs et travailleuses du Québec
Grandmother's Advocacy Network
Humanité & Inclusion
Humber College
IMPACT
Inter Pares
Interagency Coalition on AIDS and Development
Jane Goodall Institute of Canada
KAIROS Canada
Leger Foundation / L'œuvre Léger
Nobel Women's Initiative
Oxfam Canada
Oxfam Québec
Presbytarian World Service and Development
Right to Play
Rooftops Canada / Abri International
SACO-CESO
SeedChange
SUCO
UNIFOR
United Church of Canada
Veterinarians without Borders
WaterAid Canada
World University Service of Canada / Entraide universitaire mondiale du Canada
World Vision Canada / Vision mondiale Canada
Membership
Membership in the ACF is open to all CCIC members. Organisations that are not CCIC members and would like to join have to demonstrate the following characteristics:
A commitment to working for long-term development and social justice in Africa (as distinct from an exclusive focus on humanitarian assistance and emergency relief); An active presence in Africa, working with African civil society organizations, or more indirectly, through international networks and consortia who, in turn, work with African civil society organizations; An involvement in public education and awareness-raising activities in Canada; and An interest in policy formation and advocacy with the Canadian government. A member group that is not a CCIC member needs to reaffirm its wish to belong to the ACF on an annual basis.
Contact:
Sebastián Vielmas
Regional Working Groups Officer
Canadian Council for International Co-operation
E-mail: [email protected]
Africa – Canada Forum Publications
It has been an amazing year for the Africa-Canada Forum and its members. As such, we are proud to present the ACF 2018-2019 Annual Report highlighting the work of its 42 members. It includes the group's main activities, list of members and financial report.
read more