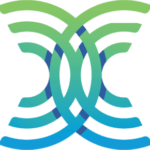 Website cooperation_ca Cooperation Canada
We work towards a world that's fair, safe and sustainable for all.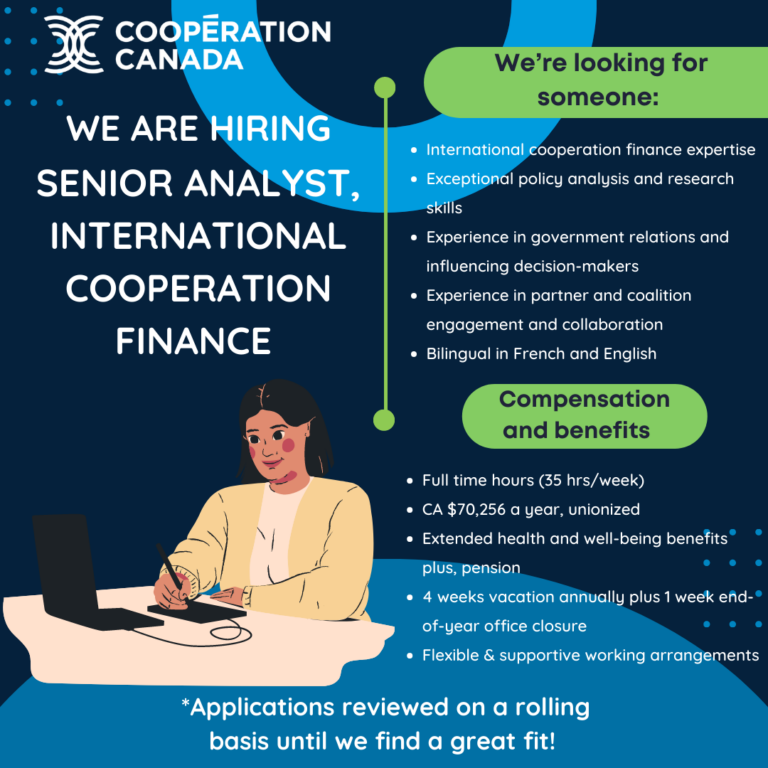 We're looking for someone with: 
International cooperation finance expertise

 

Strong policy analysis and research skills

 

Experience in government relations, influencing decision-makers and partner engagement

 

Bilingual in French and English

 
Compensation and benefits 
Full time hours (35 hrs/week) 
CA $70,256 a year, unionized  
Extended health and well-being benefits pension 
4 weeks vacation annually plus 1 week end-of-year office closure 
Flexible and supportive working arrangements 
Who are we? 
We are Canada's national association of international cooperation and humanitarian organizations. Cooperation Canada works with partners in Canada and across the globe to build a world that's fair, safe and sustainable for all. Learn more. The Senior Analyst, International Cooperation Finance, will report directly to Cooperation Canada's CEO, and work closely with Cooperation Canada's Policy Team. 
We work in a unionised environment and this role is unionised. Our Collective Agreement is available here. 
Who is the Senior Analyst, International Cooperation Finance
As a senior member of our team, the Senior Analyst, International Cooperation Finance, will play a critical role in developing and shaping Cooperation Canada's strategic leadership on international cooperation finance and supporting our efforts to increase the quantity and quality of Canada's Official Development Assistance (ODA). Because you understand the power of collective action, you will support efforts to improve the capacity of Canadian organizations to advocate for stronger Canadian leadership on international cooperation finance and work alongside global civil society coalitions with similar goals. In this role, you'll combine creativity and intellectual rigour with the organizational skills to manage research and analysis, government engagement, sector coordination and grant management. While you report directly to the CEO, you will collaborate closely with Cooperation Canada's policy team.    
What will we be looking for in our candidates? 
You will use your strong research, analytical and writing skills to assess trends in international cooperation finance and inform sector recommendations on how Canada can increase its global leadership in this area. Your tact, diplomacy and strong communication and interpersonal skills will enable you to lead Cooperation Canada's approach to parliamentary and government relations and effectively coordinate advocacy efforts across Cooperation Canada's membership and beyond.  You have strong organizational and project management skills that enable you to smoothly oversee grants, budgets and workplans.  
Ideally our candidates will have: 
Strong analysis, research and writing skills.

 

Strong background in international cooperation finance, including qualitative and quantitative analysis.

 

 

Experience working in campaigns, advocacy, public mobilization, government relations, media and/or communications.

 

 

Familiarity with the Canadian CSO community and global CSO networks.

 

Reputation for effective leadership, initiative-taking and collaboration, and strong organizational skills.

 

Strong relationship management skills and the ability to influence decision makers, as well as bring diverse perspectives towards a consensus.

 

Bilingual in English and French.

 
The below table may be a little intimidating but it outlines in more detail the tasks you can expect to carry out and the competencies associated with them!  
Key responsibilities 

 

Competencies 

 

Research, analysis and writing (40%)

 

Prepare timely policy analysis, research and advocacy materials on international cooperation finance and Canadian and global trends.

 

Identify and fill key analytical gaps essential to successful international cooperation finance advocacy.

 

Conduct rapid policy analysis and response on international cooperation finance.

 

Analytical and writing skills

 

Qualitative and quantitative research skills

 

Initiative and responsiveness

 

Independence

 

Attention to detail

 

Government and parliamentary engagement  – 15%

 

Develop advocacy strategies in partnership with others

 

Engage in political outreach and influencing

 

Build relationships with key contacts in government

 

Represent Cooperation Canada in external events and convenings 

 

 

Policy and political awareness 

 

Collaboration and teamworking abilities

 

Interpersonal skills, tact and diplomacy 

 

Responsiveness and flexibility

 

Leadership

 

Supporting the coordination and capacity needs of the sector – 30%

 

Coordinate and collaborate with Cooperation Canada members and allies on advocacy strategies and tactics

 

Support capacity development needs of international cooperation sector on international cooperation finance 

 

 

Interpersonal skills, tact and diplomacy

 

Collaboration and teamworking abilities

 

Leadership

 

 

Organizational and administrative duties – 15%

 

Support integration and amplification of Cooperation Canada's international cooperation finance work into Cooperation Canada's broader work agenda.

 

Oversee grants, agreements and initiatives related to international cooperation finance, and identify new opportunities.

 

Manage or co-manage staff, and participate actively in internal team planning and culture processes.

 

Promote organizational culture that advances anti-racism and gender equality, is inclusive and fosters trust and safety.

 

 

Organizational and planning skills

 

Management skills

 

Teamwork and collaboration

 
If you want a more detailed breakdown of your responsibilities, you can find more information here.  
Interested? What you need to know about how we recruit. 
Applications are accepted on an ongoing basis until the position is filled and we'll review them quickly. While timelines can shift, our goal is to have the position filled by the end of March or sooner. We will keep you updated on our timelines throughout the recruitment process. 
Your application will need to demonstrate the competencies for this role to move on in the recruitment.  
Provide your application through BambooHR, the platform we use to manage people and culture from recruitment to onboarding and employee experiences. We want this process to be as accessible as possible. On BambooHR, you will find a request for a short submission to show us your skills! This could be a video clip, an example from your portfolio, an illustration and/or your CV – anything you feel will help us understand how you would be a great fit for this role and our team. You will have the option to upload multiple documents or inputs for your application. You will also be asked some pre-screening questions including your motivation to work for us, and confirmation of your eligibility to work in Canada.  

We start with a 10-15 minute conversation with selected candidates following this step – essentially a chance for us to ask any questions we are unsure about from your application and for you to ask us any questions you have! We believe strongly that recruitments are a reciprocal process and it is important that you have a chance to raise any questions you may have before continuing in the process. 

We know that one of the best ways for you to show us your skills is through an opportunity to demonstrate them. Up to six candidates will be asked to participate in a role-related exercise. This exercise will take no more than 2 hrs to complete and you will have 24 hours to complete the exercise. You can expect it to include two or three small tasks similar to what you would be expected to do in your role. You may be asked to provide links or documentation of previous work that you have completed.

After we review the role-related exercise through an identity-hidden review, we will invite 3 to 4 candidates to an interview. Here is what you can expect:

 

A 60-75 minute interview with questions sent in advance;

 

A portion of the interview is dedicated to your question for us; it is as important that we are a good fit for you as you are for us!  

 

You will be asked do a short presentation (10 mins) on the role-related exercise in the interview.

Following the interviews, we will request and check your references.

 

If you are successful, you can expect a call from us to share our offer to join our team and confirm your start date, followed by a contract sent via email.

 
You will be compensated for your time in the written exercise and interview (up to 4 hours).  
Cooperation Canada is committed to an inclusive, diverse and safe workplace and to advancing anti-racism in all that we do. This includes removing barriers to employment that are faced by equity-seeking groups including through self-identification, anonymous review processes and by ensuring diverse hiring panels. Applications are encouraged from all candidates, particularly those who identify as Black, Indigenous, and other racialized communities, persons with disabilities (visible or not), people of diverse gender identities and expressions, and other marginalised groups in our sector who share Cooperation Canada's mission. We kindly encourage (but do not require) members of these groups to self-identify in their cover letters. We are happy to provide accommodations at any stage throughout the hiring process.