International Development week is an annual occasion to celebrate the impact and successes of organizations and individuals working to help people and communities in developing countries, where poverty, conflict or natural disasters make for precarious living conditions.
This year's International Development Week theme is "Go for the Goals," with a focus on gender equality, health and climate change. Referring to the United Nations' 2030 Agenda for Sustainable Development, this theme illustrates the idea of moving forward in a collaborative and positive way toward a better world. 
This way forward is the implementation of the 2030 Agenda for Sustainable Development and its 17 Sustainable Development Goals (SDGs). This Agenda is a global plan of action aiming to end poverty, protect the planet and ensure that all people enjoy peace and prosperity by 2030. In other words, it is a path that seeks to shift the world toward a less wasteful, less destructive and more sustainable and equitable mindset. One where no one goes hungry, no one feels unsafe, and no one is left behind. 
While this Agenda involves ambitious goals, we can achieve them if we #GoForTheGoals together. 
With less than a decade until 2030, this edition of the International Development Week is an ideal moment to reflect on how the global goals affect our realities both at home and abroad.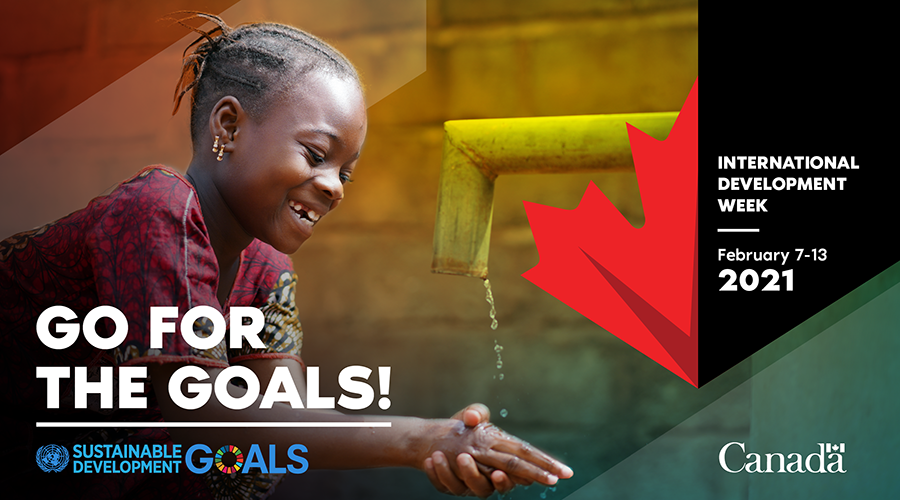 IDW Hill Days
February 8 to 12
Join us as we convene Cooperation Canada members to meet virtually with members of Parliament to present asks for more ambitious policy and financing for international development. Please register by end of day February 1 to ensure you are scheduled for a meeting with your parliamentarian. 
Registration for Hill Days 2021 is now closed.
Cooperation Canada Awards
 Thursday, February 11 from 4  to 5 pm ET
Take a quick break from your busy International Development Week activities for the Cooperation Canada 2020 Award Ceremony.
At this virtual event, Cooperation Canada will present the Karen Takacs Award for Women's Leadership in International Development.
Cooperation Canada and WUSC, in collaboration with the Trustees of the Lewis Perinbam Award, will present the Innovation and Impact Awards – Two awards will be announced, one for an organization and one for an individual recipient.
Join us in celebrating the amazing work of the 2020 Award recipients!
Interpretation for this event is generously provided by our sponsors:
Register for the Awards 
IDW 

unDebate
Friday, February 12 from 12 to 1 p.m. ET 
The first Biden-Trump presidential debate ruined the concept of a political debate for years to come.  Fortunately, we already introduced an unDebate format last year at the Cooperation Forum. Given the last one's success, we have planned another unDebate where we will seek to have a respectful policy dialogue on overseas development assistance with politicians sharing very different views. We are thrilled to host this unDebate with Conservative International Development Critic Garnett Genuis, Bloc Quebecois Critic Alexis Brunelle-Duceppe, NDP Critic Heather McPherson, and Green Party Critic Paul Manly (TBC). Attend the unDebate and you will not be unInformed about each party's position on development assistance! 
Register for the unDebate 
Our Members' #IDW2021 Activities
Cooperation Canada members are busy during this year's International Development Week! Discover what they're up to on our events calendar.