Par Dre Kate Grantham, Consultante en développement international et Vice-présidente de l'ACÉDI
With the results of Canada's recent federal election, Justin Trudeau's Liberal government has been given another opportunity to advance its widely touted feminist foreign policy. However, this time around, the Liberals face the uphill battle of being a minority government, in a global context where right-wing nationalist and anti-feminist movements are on the rise.
Since taking office in 2015, Justin Trudeau's federal government has made several major announcements demonstrating its commitment to a feminist foreign policy agenda. Most prominently, in June 2017, the government introduced its Feminist International Assistance Policy which "seeks to eradicate poverty and build a more peaceful, more inclusive and more prosperous world… [by] promoting gender equality and empowering women and girls." Other examples include the government's decision to make gender equality a centerpiece of its 2018 G7 presidency, its efforts to include gender protections in several recently negotiated free trade agreements, appointing Canada's first-ever Ambassador for Women, Peace and Security, and committing to invest $1.4 billion over ten years for global initiatives promoting women's sexual and reproductive health and rights.
The government's ambitions are certainly admirable, and necessary to correct historical inattention to the diverse experiences of women and girls in Canadian foreign policy. Yet realizing a comprehensive feminist approach across all three pillars of Global Affairs Canada's portfolio – diplomacy, trade and development – presents real challenges, particularly in the current global economic and political climate.
Countries in North America, Europe and around the world are witnessing the proliferation of right-wing nationalist and anti-feminist movements, which can be largely attributed as backlash against the perceived threat of a feminist agenda like the one Global Affairs Canada is pushing for.
In the United States, just two days after the historical Women's March on Washington, Donald Trump reinstated the Obama-repealed "global gag rule", banning funding for organizations that perform abortion services, referrals or advocacy. Trump also expanded the policy to include, for the first-time, non-governmental organizations that support other groups that provide or merely discuss abortion. The current international climate makes Canada's global leadership on gender equality – and on sexual and reproductive health and rights in particular – a critical and uphill battle.
Very real tensions also exist for realizing a comprehensive feminist foreign policy because the objectives of Canadian development, diplomacy and trade sectors are not always neatly aligned. Case in point, the Canadian government faced intense criticism earlier this year for proceeding with a $15 billion sale of light armored vehicles to Saudi Arabia, despite reports those vehicles may be used for military repression, in direct contradiction of feminist principles.
Similar tensions exist for Canada's economic interests abroad, put into sharp focus when the government backtracked on a commitment to create an independent ombudsperson on corporate human rights. This was in spite of evidence of widespread and egregious human rights abuses by Canadian companies and supply chains abroad, including in mining, oil and gas, and garment sectors.
Back at home, Canadian public support for international development assistance is seen to be waning in some circles. The promise made by Conservative leader Andrew Scheer to cut Canadian foreign aid spending by 25 per cent if elected signals the deeply politicized and insecure position of Canadian foreign aid spending. Scheer's announcement was met with alarm bells by those working in the aid sector, who were particularly critical of the misinformation being spread during the campaign. The broader Canadian public, however, remained relatively disengaged from the issue. While most Canadians agree that we have a duty to support the health, education and economic opportunity for the world's poorest and most marginalized, public opinion research from the Canadian Partnership for Women and Children's Health (CanWaCH) finds that nearly one quarter of Canadians disagree with this idea.
If the federal government has any serious ambition of moving the needle on Canadian foreign aid spending from the current 0.28 per cent of GNI to meet Canada's decades old commitment of 0.7 per cent, then it must work to generate broader public education and support for the goals of a feminist international assistance policy.
These are real challenges and tensions that need to be tackled head on in order for Canada to realize the critical ambitions of its feminist foreign policy agenda.
The Summit on Canada's Global Leadership, taking place in Ottawa on November 27 and 28, is a unique opportunity to discuss Canada's foreign policy with individuals working across the development, diplomacy and trade nexus. Several different plenaries and breakout sessions will address this issue, with diverse speakers from Canada and internationally scheduled to take part in the program.
The opening plenary on November 27, "Setting the tone: What should Canada's foreign policy agenda be?" will feature Shirley Kimmayong (Founder of Hagiyo Organization Inc.), Shirley Pryce (Founder of the Jamaican Household Workers Union) and Hugh Segal (Former Conservative Senator) discussing a shared vision for an ambitious and impactful Canadian foreign policy agenda.
On November 28, Canada's Ambassador for Women, Peace and Security, Jacqueline O'Neill, and General Jonathan Vance, Canadian Armed Forces Chief of the Defence Staff, will headline a post-lunch plenary on "Strengthening Women's Participation on Peace Processes and Conflict Resolution" moderated by Ketty Nivyabandi of the Nobel Women's Initiative. This session will address the intersections of gender and women's leadership in global challenges to peace and security, and how these intersections can inform Canadian foreign policy.
Multiple breakout sessions will also touch on the issue of feminist foreign policy, including "Beijing+25: Influencing priorities and opportunities for engagement" on November 27, and on November 28, "Feminism(s) in gender equality and women's empowerment programming" and "Justice climatique féministe".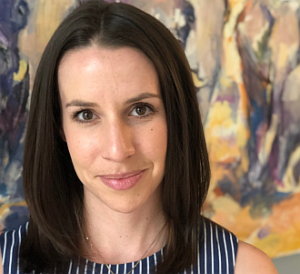 Dre Kate Grantham est une consultante en développement international spécialisée dans la recherche et les approches féministes. Elle est également vice-présidente de l'Association canadienne d'études du développement international (ACÉDI). Suivez @KateGrantham sur Twitter.