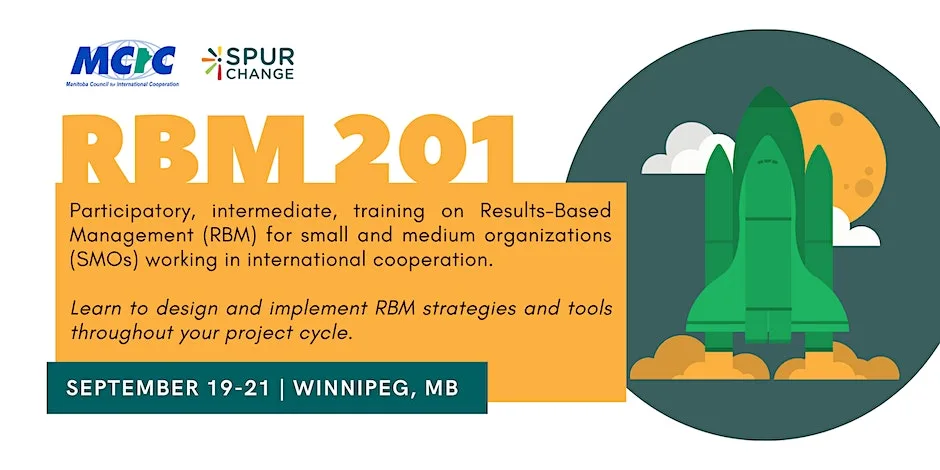 Group based training on applying RBM strategies and tools for Canadian Small and Medium Organizations (SMOs) in international cooperation.
*This in-person training prioritizes Manitoba-based small and medium sized organizations (SMOs) working in international cooperation. SMOs from Saskatchewan and Ontario are also welcome to register. Limited travel subsidies are available. Wondering if this training is for you? View the details further down in the description.
The Manitoba Council for International Cooperation (MCIC), in partnership with the Spur Change Program, is pleased to offer nonprofits, charities, social enterprises, and other SMOs a training on Results-Based Management (RBM). This training, facilitated by Darren C Brown, is a practical hands-on experience for participants to strengthen their capacities in RBM. This training presents an intersectional approach, taking into consideration gender equality and SDGs themes. The training relies on group work and collectively practicing different RBM tools (theory of change, situational analysis, logic model, PMF, etc.) through a case study.  
✅ Prerequisite
To ensure everyone can participate in the group work, RBM 101 Practicing Results-Based Management is a prerequisite to attend. 
Your spot is not confirmed until you have submitted your RBM 101 certificate to Nicolas Pena ([email protected]) by September 11.
 Here is the link to complete the approximately 3 hour self-paced online training: 
https://spurchangeresource.ca/en/training/rbm101/
📚 Objectives of RBM 201 :
Equip Canadian Small and Medium Organizations (SMOs) working in the international cooperation sector with the knowledge and skills to apply Results-Based Management (RBM) principles, standards, tools, processes with sustainability and intersectionality/GBAPlus in mind.
Provide a collaborative space for participants to deepen their skills and ask questions on their understanding of RBM methods and concepts.
Reinforce participants' capacities to integrate gender sensitive, responsive, and transformative approaches into their projects/programs.
Provide opportunities to draft a theory of change, perform situational analyses, draft a logic model, and more through a case study approach with the help of fellow participants and support from an expert facilitator.
To reflect upon and celebrate each organization's own project's unique successes and challenges in the spirit of supportive co-learning and networking for meaningful impact.
📬 Training Details
3-day in person training.
9am to 5pm on September 19th, 20th, and 21st (lunch will be provided).
Creative Manitoba: 245 McDermot Ave Suite 300 (4th floor), Winnipeg, MB
📣 Selection Criteria
There is a maximum of 25 spots available for this training with a maximum of three participants from the same organization able to register. We hope to leave room for as many different organizations as we can. While M&E staff are of course welcome, we highly encourage participants from other positions to attend! RBM is useful outside of monitoring and evaluation.
Organizations that meet Global Affairs Canada's criteria as an eligible small or medium organization (SMO) working in the international cooperation sector will be given preference over other organizations. This training is tailored to the international cooperation sector but others interested in RBM are welcome to attend should space allow.
Manitoba-based organizations will be given preference. Limited travel and accommodation subsidies are available on a first come, first served basis for those outside of Winnipeg. Participants from Saskatchewan and north-western Ontario are welcome to register should space allow. Please contact Nicolas at 

[email protected]

 right away if you require a travel subsidy.
MCIC and Spur Change will monitor the registration process on a rolling basis and send you confirmation once having received your 101 certificate.
⏳ Participants have until September 11, 2023 to register. Hope you register and stay tuned for more opportunities!