Reporting mechanisms and community engagement
December 8 @ 10:00 am

-

2:00 pm

EST

$120.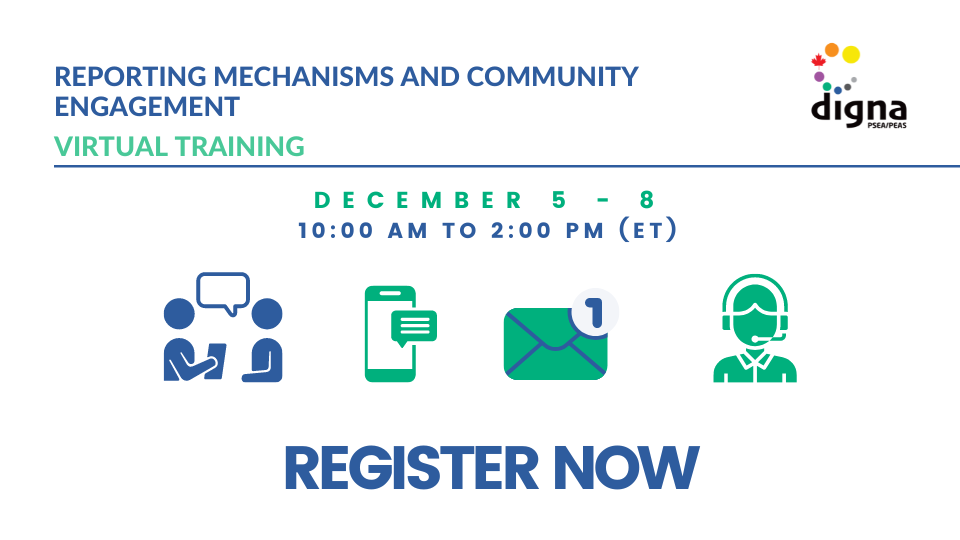 Digna, the Canadian Centre of Expertise on the Prevention of Sexual Exploitation and Abuse, is pleased to hold a training entitled "Working with partners to prevent sexual exploitation and abuse".
Training details:
Dates: December 5-8
Session times: 10am-2pm EST
Registration cost $120
Location: Zoom
Language: English, with bilingual facilitator and French materials
Pre-requisites: Participants should have prior understanding of PSEA concepts and minimum standards.
Please direct any inquiries about this training to digna.info@cooperation.ca.
About the training:
The training will include the folowing content:
Module 1: Opening (3.5 hours)
The reporting process: elements of a good reporting process
Barriers to reporting and solutions to overcoming barriers
Module 2: Good practices for reporting and responding to sexual violence (3.5 hours)
Receiving reports & what to report
Survivor-centred and trauma-informed approaches, psychological first aid
Case study examples
Module 3: Developing a sexual violence reporting mechanism for your organization (3.5 hours)
Key steps in reporting process
Roles & accountabilities
Confidentiality
Reporting methods & reporting lines
Good practices for drafting mechanisms
Implementation, dissemination, accessibility, communication and following up on mechanisms
Module 4: Community engagement (4 hours)
Building trust in reporting channels
Systems tailored to communities and survivors
Finding the best channels of communication/reporting
Languages
Program participants awareness of rights
Validation of allegations before investigations
Dissemination – communication adapted to the communities
About the facilitators:
Adriana Leigh
Adriana Leigh is Founder and Principal Consultant at ALG consulting. She brings 19+ yaers of diverse global experience as a workpalce human rights lawyer and facilitator in gender, SGBV, diversity and inclusion. She has experience working nationally and internationally, leveraging her well-rounded bavkground to support organizations. Adriana has facilitated many trainings for Digna in the past, including the PSEA summer school, as well as supporting the work of Digna's working groups.
Co-facilitator: Crossroads International 
A PSEA focal point from Crossroads International will be co-facilitating the session on community engagement. Their details will be added once confirmed.
For more information, please click on the link below