As we close 2022, and look ahead to 2023, I've been reflecting on the past year, and what lies ahead.  While many of us will be taking time off over the holidays to rest, relax, and spend time with loved ones, we know that millions of people around the world are not so lucky.  Ongoing conflict and famine, global economic instability, the rise of authoritarian and anti-democratic forces, and attacks on human rights and climate defenders sit heavy with many of us. My thoughts are with the brave people facing hunger, conflict, crisis, and discrimination as we move into the holiday season.
It is this inequality and injustice, and our belief that by working together we can make a difference, that motivates us at Cooperation Canada. I am proud of the work that Cooperation Canada has done in 2022. And as we look towards 2023, I am excited about what lies ahead, and look forward to continuing to work with Cooperation Canada members, allies and partners. 
I feel both humbled and privileged to lead Cooperation Canada. Since starting as CEO in April, I have been welcomed by many Cooperation Canada members to their cities and organizations across the country. I have connected with federal Members of Parliament and Senators to discuss Canadian global leadership on international cooperation. I have collaborated with colleagues at Global Affairs Canada on how we can partner and work together to enhance the effectiveness of Canadian international development and humanitarian assistance. I've learnt from, and shared ideas with, inspiring people working for charities, universities, think tanks and movements across Canada and the world on the future of social impact, international cooperation, and global solidarity. It's been energizing and inspiring, and gives me much hope about what Cooperation Canada can contribute to in 2023 and beyond. 
There have been many highlights for Cooperation Canada this year, and working together with our members and others we have pushed forward several important priorities. We have advocated tirelessly for Canada's charity regulations to be modernized, demanded the government change the Criminal Code to allow Canadian aid agencies to deliver humanitarian assistance in Afghanistan, developed our 2023 Federal Budget submission, and worked with Global Affairs Canada's CFO Branch to enhance the efficiency and collective impact of Canada's international assistance. At Cooperation Canada, we were thrilled to launch the Anti-Racist Cooperation (ARC) Hub, continue the important work of preventing sexual exploitation and abuse in international cooperation with Digna, and contribute to strengthening humanitarian action by hosting the Humanitarian Response Network and coordinating the Humanitarian Policy Advocacy Group.  I was delighted to see so many of you at our International Cooperation Futures Festival in October, and I look forward to more opportunities to connect in the coming year! 
The Cooperation Canada team has big plans for the New Year.  It will be International Development Week before we know it, and we look forward to connecting with Members of Parliament on Parliament Hill, as well as presenting our Cooperation Canada Awards.  We will support our members to connect with Global Affairs Canada on a range of priorities, including the Grants and Contributions Transformation Process, the new Indo-Pacific Strategy, localization, and development effectiveness.  We're excited to look to the future with our members as we ramp up our Global Development Futures Initiative. And we're looking forward to continuing to connect with our members through our Cooperation Canada Working Groups, and will engage our members on a process to review Cooperation Canada's Code of Ethics. 
I am so grateful to the incredible Cooperation Canada team for their dedication and hard work this year.  Many of us are new to Cooperation Canada, and I am inspired by this team's potential! I would also like to thank Cooperation Canada's very committed Board of Directors for their guidance and support.    
I am excited about the future of Cooperation Canada and truly believe that our mission – to convene, coordinate and collaborate to inspire policies and programs for a fairer, safer, and more sustainable world – is as important as ever. 
Thank you for your continued engagement, encouragement, and support!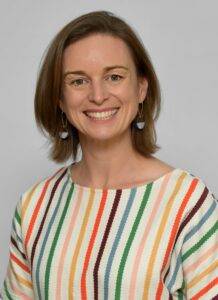 Kate Higgins
Chief Executive Officer, Cooperation Canada