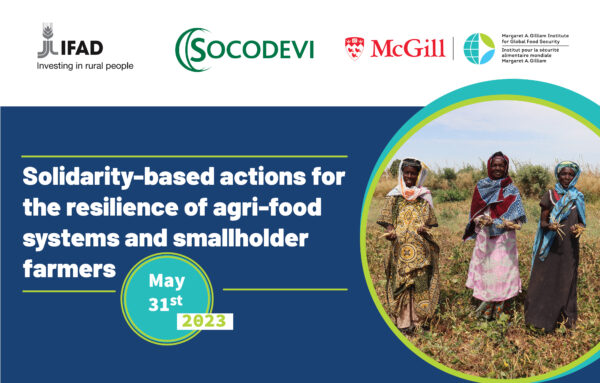 SOCODEVI and McGill University's Margaret A. Gilliam Institute for Global Food Security (IGFS), in collaboration with the United Nations International Fund for Agricultural Development (IFAD), are pleased to organize a high-level event showing concrete actions to strengthen sustainable agriculture, improve the living conditions of small-holder farmers and increase the resilience of agri-food systems.
During the event and in the context of climate change adaptation, the importance of partnership, the involvement of women and youth, and cooperation values to ensure food and nutrition security will be highlighted, as well as agricultural risk management mechanisms such as crop insurance.
The event will take place on May 31st, 2023, 9:45-15:00 at the McGill Faculty Club and Conference Centre, 3450 McTavish St, Montreal, Quebec.
To register before May 19th, please write to [email protected].
Program
9:45 : Breakfast
10:30-10:35: Keynote speech
10:35-12:00 : Panel discussion about solidarity-based actions for the resilience of agri-food systems and smallholder farmers
12:00-13:00: Lunch
13:00-13:15: Official launching of the McGill/IFAD student group
13:15 : Innovation fair and Networking
15:00 : Closing
Panelists
Ron Hartman, Director for Global Engagement, Partnerships and Resource Mobilization, IFAD
Marie-Christine Bélanger, Director of Consulting Services and Innovation, SOCODEVI
Céline Delhaes, Milk and Berry Producer, Agropur Cooperative
Morgane Leclercq, Research Professional, Research Chair in Food Diversity and Security Law (DDSA), Laval University
Jean-Xavier Escot, Practice Leader – Entrepreneurial Support Service, Développement international Desjardins
Patrick Cortbaoui, Managing Director, M. A. Gilliam Institute for Global Food Security, McGill University