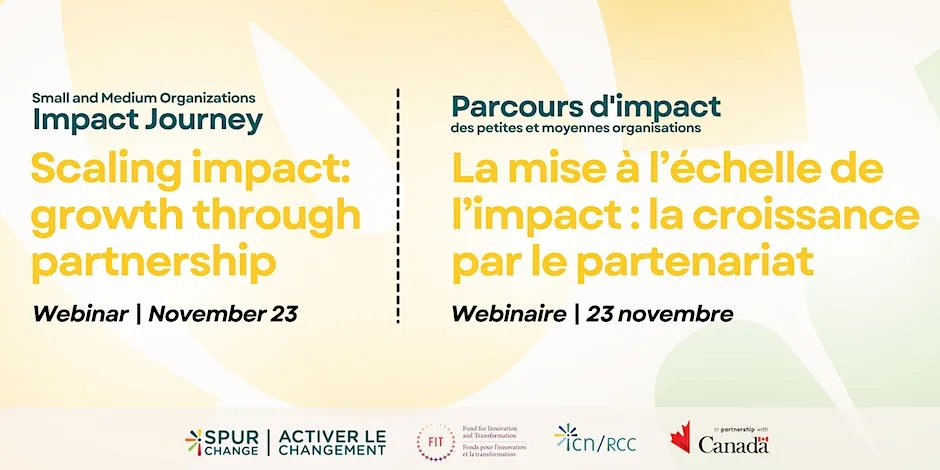 Over the next few months, Spur Change is convening the entire sector for international cooperation to learn from small and medium organizations (SMOs) supported through the three windows of Global Affair Canada's SMOs for impact and innovation initiative (the Development Impact Window (DIW), the Fund for Innovation and Transformation (FIT), and the Spur Change program).
This is an opportunity to celebrate and recognize the unique value and contribution of SMO's work in Canada and abroad. Learn more about the SMO Impact Journey webinar series here.
This second session will be focused on scaling impact and organizational growth. Scaling their impact is an objective for many small and medium sized organizations (SMOs) who seek to address long-lasting social needs. However, scaling isn't a linear process and the scaling journey takes many different forms depending on the organization, their goals, their partnerships, and the communities they work with. Be it through timely collaborations with larger organizations, uptake from local governments, opening up new markets, or partnerships with new local stakeholders, scaling pathways can take multiple directions. Not all scaling efforts have the same level of success, in particular when considering organizational structures, innovation frameworks, and partnership creation.
This session will highlight the work of organizations and some of their successes and challenges while scaling their program and tested innovation. They will share their personal experiences around their impact journey through the lens of scale for sustainable growth and the importance of building key collaborations and ongoing relations with local partners and authorities.
✅ Main Objectives
Learn what have been the challenges and opportunities while SMOs tested innovative solutions to advance gender equality;
Contribute to the reflection on scaling pathways in international cooperation;
Dive into case studies of projects aiming to create sustainable impacts though scaling innovative projects and solutions;
Provide time for meaningful dialogue and Q&A with participants;
Celebrate the contributions of SMOs to the global cooperation sector and how the SMO initiative (DIW, FIT, and Spur Change) have supported them.
👋 Speakers
*All 4 projects presented as part of this event have been funded by the Fund for Innovation and Transformation (FIT).