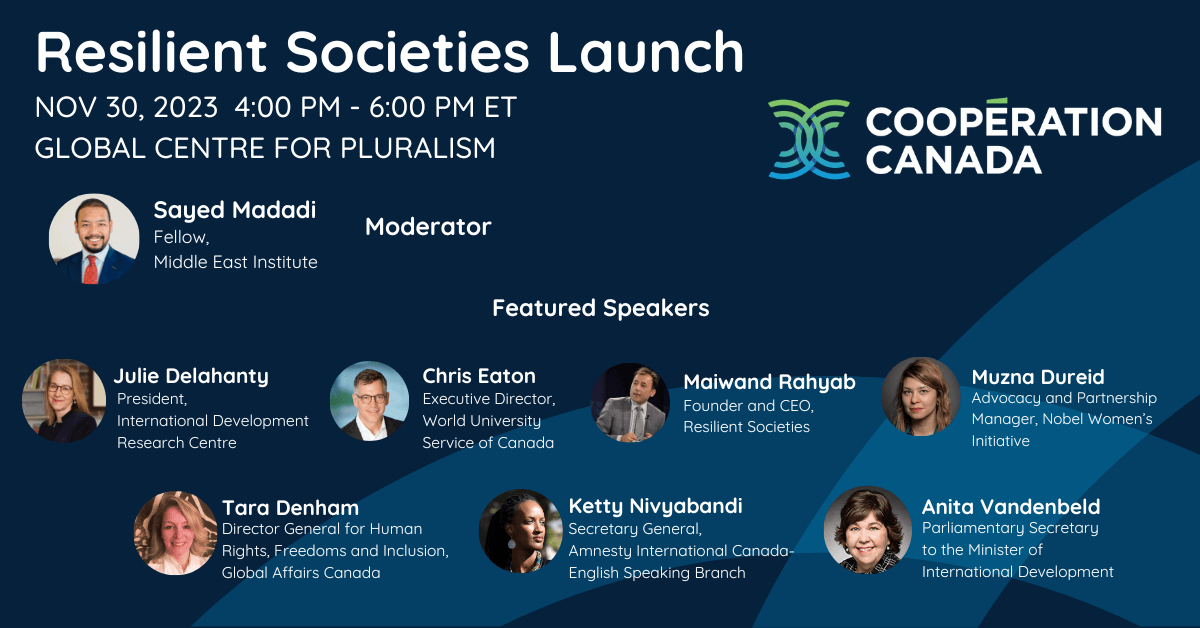 Resilient Societies
Resilient Societies (RS) is an activist-led hub providing support and creating safe spaces for grassroots networks of human rights defenders and democracy and civil society activists to collaborate, innovate, and advocate in 'closing' and 'closed' civic spaces. RS builds on Canada's culture of embracing diversity and pluralism and its generosity in supporting and welcoming at-risk activists and translates it into organic, innovative, and activist-centered programs and projects with impacts in the diaspora and activists' countries of origin. By building resilience, enhancing voice and agency, and raising the credibility and relevance of civil society activists and human rights defenders from closed and closing spaces, RS contributes to reversing global democratic backsliding and shrinking civic spaces.
Launch Event
This launch event will:
Introduce Resilient Societies' mandate, scope, and strategic directions in support of creating open and enabling civic spaces in Canada and globally.
Raise awareness of the challenges and opportunities civil society organizations, democracy activists, and human rights defenders face in countries with closed and repressive civic spaces.
Highlight strategic opportunities for engaging and collaborating with diaspora activists from closed and repressive spaces in Canada.
Moderator: Sayed Madadi, Fellow, Middle East Institute
Featured Speakers
Event Schedule 
Welcome, land acknowledgement, and introductions
Keynote address
Launching of Resilient Societies
Panel discussion
Closing remarks
Refreshments and networking