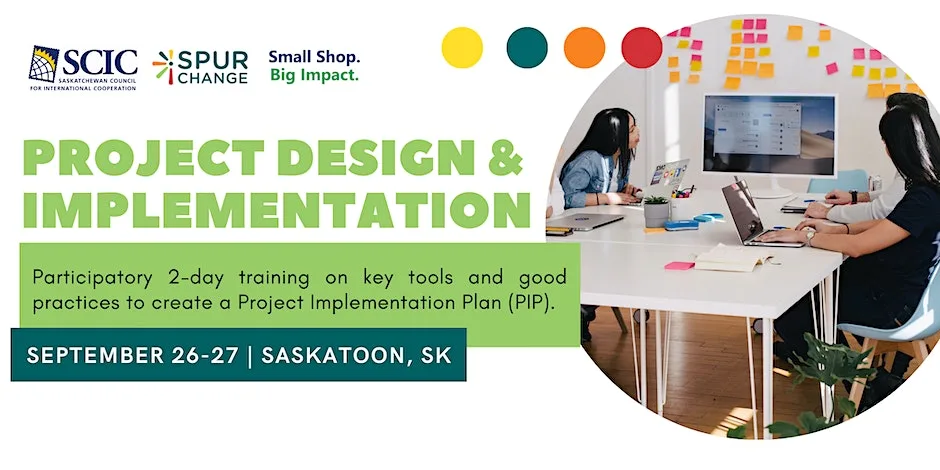 Strengthen your project design and implementation strategies with good practices and effective management tools.
*This in-person training is intended for Saskatchewan-based small and medium sized organizations (SMOs) working in international cooperation. SMO participants from neighbouring provinces and territories are welcome to register should space permit.* Limited travel subsidies are available. Wondering if this training is for you? View the criteria further down in the description.
Location
To be announced
The Saskatchewan Council for International Cooperation (SCIC), in partnership with the Spur Change Program, is pleased to offer nonprofits, charities, social enterprises and other SMOs in Saskatchewan a training on Project Design and Implementation.
This 2-day in-person training organized in collaboration with Small Shop Big Impact will be a practical hands-on experience for participants to strengthen their project design and implementation skills. The training will cover all core components of developing a Project Implementation Plan (PIP) as required for projects funded through Global Affairs Canada:
Theory of Change & Logic Model,
Gender Equality Strategy,
Monitoring, Evaluation & Learning and Performance Measurement Framework,
Risk Management,
Project Governance,
Work Planning,
Activity-Based Budget,
Communication planning.
While geared towards projects that have already been approved based on a full proposal, this training is appropriate for anyone looking to strengthen their knowledge and skills for comprehensive project design, implementation, and management. This training presents an intersectional approach, taking into consideration gender equality and SDGs themes throughout the different levels of the project. Whether you are working in an international, academic or community environment, this training will provide you with the general knowledge and tools to jump start your project.
✅ Objectives of the training:
Equip Canadian Small and Medium Organizations (SMOs) working in the international cooperation sector with the knowledge and skills to design and implement a project, taking into account gender equality and intersectional themes.
Greater appreciation for how a strong project design and a fulsome implementation plan can support their team in achieving results and learning about the impact of their work.
Strategies for developing project elements with internal teams, local partners, and communities.
A toolbox of resources and templates to support project design, project implementation, budget tracking, and MEL.
👐 Training Expectations and Requirements
Participants are expected to attend both days of the in-person training.
The training will take place from 9am to 4pm on September 26 and 27, 2023.
Exact venue to be announced soon! Training will be in Saskatoon, SK and lunch will be provided.
📣 Selection Criteria
There is a maximum of 25 spots available for this training with a maximum of three participants from the same organization able to register. We hope to leave room for as many different organizations as we can. We highly encourage participants from a variety of positions to attend!
Organizations that meet Global Affairs Canada's criteria as an eligible small or medium organization (SMO) working in the international cooperation sector will be given preference over other organizations. This training is tailored to the international cooperation sector but others interested in PIP are welcome to attend should space allow.
Saskatchewan-based organizations will be given preference. Limited travel and accommodation subsidies are available on a first come, first served basis for those outside of Saskatoon. Please contact Nicolas at 

[email protected]

 right away if you require a travel subsidy.
SCIC and Spur Change will monitor the registration process on a rolling basis and send you confirmation provided you meet the selection criteria.
⏳ Deadline to register: Participants have until September 19, 2023 to register!